Technology Needs for At-Home Learning
Beginning Fall 2020, it will be necessary for all students to have access to a device such as a Laptop Computer, Desktop Computer, Chromebook, iOS Device/ipad, Android Tablet, or Kindle Fire Tablet. This does not mean each individual student will need their own device, but simply have access to one to complete their schoolwork. Internet service will also be required.
Any parent who has issues with securing devices or Internet services should contact Pike County Schools. A limited number of devices will be available for lease at a very reasonable cost and these will be distributed based on documented financial need basis initially. Additionally, the school system is working to resolve issues where Internet services are not available.
Students who have selected the Virtual School option must be able to use this device daily while Traditional/blended At-School students will need to use the devices and Internet several times a week.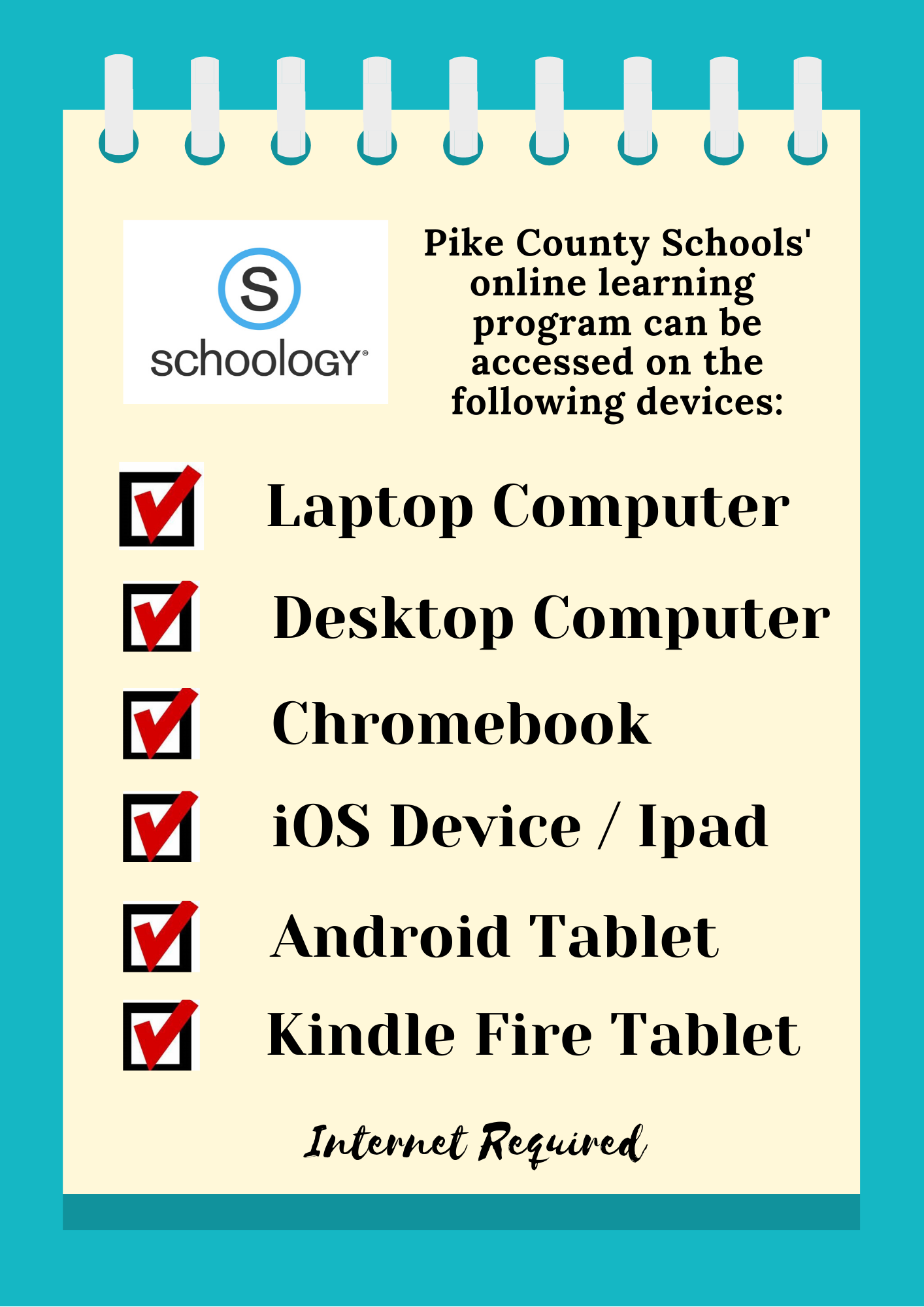 How to lease a device from Pike County Schools
Pike County Schools has a limited number of laptops for student home use. The following guidelines will be used for issuance of this equipment:
In April/May 2020, Pike County Schools asked parents to complete a survey that asked if they had a device at home for their student to use to complete their school assignments. If the parent answered "NO" on this survey, then they are eligible to lease a laptop.

If the school administration knows that the student is in need of a device, then they are eligible to lease a laptop.

All teachers will assign online assignments to be completed at home. If the teacher notes that a student is not able to complete their assignments at home because they do not have a device, then the student is eligible to lease a laptop. The teacher or principal should contact the parent to let them know about the lease opportunity.

If a student is in dual enrollment classes, then they are eligible to lease a laptop.

After above students have been identified, then the laptops may be leased out on a first come/first serve basis.

The cost to lease a laptop for a year is $50. If the family can document a financial hardship, then the fee may be reduced to $35. A monthly payment plan for the fee may be set up for those who are able to prove a financial hardship.

The maximum amount of laptops that will be allowed to be checked out for one family is 2 laptops. If a family has more than two children, then all of the children will have to share 2 devices.
Pike County Schools will begin making appointments with parents in Mid-August to lease devices for home use.